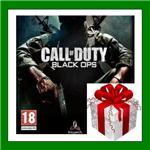 Call Of Duty Black Ops - Steam Key - RU-CIS-UA

Warning: game can be activated only in one of the following countries: Russian Federation, Armenia, Azerbaijan, Belarus, Georgia, Kyrgyzstan, Kazakhstan, Republic of Moldova, Tajikistan, Turkmenistan, Ukraine and Uzbekistan.
22.01.2019 15:50:39
Продавец отвечает быстро, ключ пришел моментально, все работает. Спасибо! Жду подарок!
05.08.2018 4:58:59
подарок1111111111111
05.08.2018 4:58:51
подарок1111111111111
27.05.2017 9:29:41
Отличный продавец! Покупаю не первый раз ,всё всегда мгновенно приходит и сто процентов работает ! хочу подарок!!!
04.04.2017 8:46:37
Все отличнно ! Большое спасибо! Хочу подарок glazyn1973@mail.ru
17.01.2017 13:07:34
Ключ получил,всё супер!хочу подарок!
25.12.2016 2:03:11
Спасибо! Ключ активировался! Жду подарок!
05.11.2016 19:28:26
Отличный продавец! Покупаю не первый раз ,всё всегда мгновенно приходит и сто процентов работает !
17.10.2016 22:06:07
Супер!!! нет слов. Жду подарок! Если можно фифа 14
12.09.2016 17:25:51
Покупаю здесь уже не первый раз) Всё здорово, жду подарок)
11.09.2016 8:22:44
Всё отлично, ожидаю подарка
14.11.2014 18:52:57
офигенно, всё отлично))
08.02.2014 2:45:26
Супер игра советую всем