Content: posveshenie.zip (7.35 KB)
Uploaded: 05.04.2011

Positive responses: 0
Negative responses: 0

Sold: 6
Refunds: 0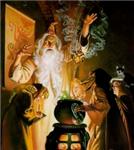 The ritual of initiation into witches (warlocks). Taken from hereditary witch-grandmother notebooks. This ritual is a unique old Russian practice black magic. All spells are easy to read and rite, in general, carried out on their own and do not quite difficult. Practice consists of 5-stages (believe me, they are worth).

This ritual should be done, if you are confident on the path of witchcraft. Without dedication, your training will not be a safe and rewarding.

Rite proven in practice many times. In my lifetime about 25ti man made it, pocemu in performance there is no doubt.
No feedback yet