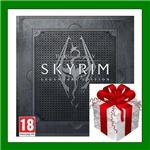 Elder Scrolls V: Skyrim Legendary Edition - CD-KEY - RU-CIS-UA

Warning: game can be activated only in one of the following countries: Russian Federation, Armenia, Azerbaijan, Belarus, Georgia, Kyrgyzstan, Kazakhstan, Republic of Moldova, Tajikistan, Turkmenistan, Ukraine and Uzbekistan.
17.01.2018 20:49:02
Спасибо
03.01.2018 19:39:09
Всё хорошо, получил товар сразу!
30.10.2017 14:41:45
Все отлично! После оплаты моментально получил ключ на почту. Спасибо!

Прошу выслать подарок!
29.10.2017 15:41:39
Моментально получил ключ на почту, скачал файл, активировал, все понравилось.
Вышлите пожалуйста на почту инструкцию
24.08.2017 15:13:29
Спасибо товар получил быстро ! Хочу подарок
27.07.2017 19:40:44
Отлично!
09.06.2017 22:35:43
Все прекрасно, товар получил моментально. Хочу подарок
06.06.2017 19:02:58
Отлично, всё пришло моментально, уже устанавливаю игру) Хочу подарок)
04.06.2017 17:06:43
Спасибо большое, игру получил. :) Теперь хотелось бы подарок
29.05.2017 19:58:20
Все пришло , магазин проверенный. Хочу подарок
26.05.2017 13:44:15
Спасибо все быстро и качественно, что написано в описании товара то и получаешь!
Хочу подарок.
22.05.2017 19:00:22
Всё работает!Спасибо!
Хочу подарок :D

19.05.2017 21:28:28
супер, хочу подарок
15.05.2017 19:46:17
Продавец супер! Уже не раз беру у него разные товары! Советую всем!!! + хочу подарок
14.05.2017 17:26:56
Всё успешно. Спасибо!
08.05.2017 13:56:43
Отличный магазин всё пришло быстро. Хочу подарок)


06.05.2017 10:40:08
всё отлично. еще бы подарок и вообще замечательно)
26.04.2017 21:09:35
Большое спасибо, все успешно активировано. Хочу подарок.
23.04.2017 19:30:05
спасибо большое за игру. жду подарок
20.04.2017 21:44:33
спасибо огромное:**