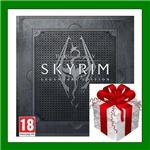 Elder Scrolls V: Skyrim Legendary Edition - CD-KEY - RU-CIS-UA

Warning: game can be activated only in one of the following countries: Russian Federation, Armenia, Azerbaijan, Belarus, Georgia, Kyrgyzstan, Kazakhstan, Republic of Moldova, Tajikistan, Turkmenistan, Ukraine and Uzbekistan.
23.04.2018 18:08:50
Все отлично! Хочу подарок)
16.04.2018 21:38:09
Все прекрасно. Код пришел моментально. У продавца беру второй раз всем доволен. Дарите подарок!)))
13.04.2018 9:34:08
Ключ пришел мгновенно.
Хочу подарок.
30.03.2018 15:04:48
Ключ получил.
23.03.2018 15:24:30
Спасибо за игру ключ пришел мгновенно! Хочу подарок))!
22.03.2018 16:05:53
Ключ пришёл моментально, все соответствует абсолютно, уже качается. Пока что первый сервис и продавец вообще, который меня не обманул на пути становление лицушником. 5+. Ну и конечно подарочек хочу.
17.03.2018 11:57:17
Ключ пришел сразу после оплаты,всё отлично, активировался без проблем. Хочу подарок!
16.03.2018 10:48:56
Все пришло, жду подарок!
10.03.2018 13:21:00
Ключ получил сразу, всё отлично. Хочу подарочек)
26.02.2018 14:39:45
Спасибо, все моментально пришло! Прошу подарок))
24.02.2018 15:58:32
Спасибо за ключ, пришло моментально, давно искал игру. Хочу подарок!
21.02.2018 17:47:57
Ключ пришел сразу после оплаты, активировался без проблем. Хочу подарок!
18.02.2018 21:45:34
хочу подарок
13.02.2018 22:38:22
Моментально получил ключ. Хочу подарок!
09.02.2018 11:32:00
Была только игра без дополнений. Активировала ключ, и теперь у меня полное издание. Большое спасибо.
06.02.2018 9:42:54
Отличный продавец. Моментально получил код. Рекомендую! Хочу подарок.
05.02.2018 22:07:10
Игру получил сразу. Спасибо! Хочу подарок!
05.02.2018 16:37:11
Все отлично, Хочу подарок
01.02.2018 13:05:21
Отлично,все и в правду работает)Хотелось бы подарок)