Content: santinel.rar (3.56 KB)
Uploaded: 06.11.2011

Positive responses: 0
Negative responses: 0

Sold: 1
Refunds: 0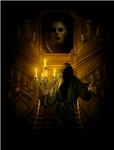 Rite for the Black guardian entity that will take care of you and help you. Guardian - spirit helper of different ranks. Custodian - versatile, but it will be useful to absolutely everyone.

If you need to get rid of the enemy, or need luck in any business, the need to stock up someone´s soul, use the help of allies.

Rite - easy to hold and does not require years of experience. The result is guaranteed, not one student has already received a custodian ...
No feedback yet