Content: text (68 symbols)
Uploaded: 19.12.2011

Positive responses: 0
Negative responses: 0

Sold: 0
Refunds: 0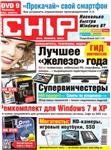 Chip - the first computer magazine in Europe, is now published in 16 countries, sold more than 1 million copies.

The magazine Chip in Russia - the highest quality in the coverage of topics such as audio, video and photographic equipment, computers, software, Internet, advanced telecommunications technology and entertainment. Working in close conjunction with the editorial board of the magazine Chip, the site publishes the latest news from the world of computers, equipment, tests and reviews, video tutorials and practical tips for working with a wide range of modern digital technology.


Features:

Best of "iron" years

2011-it was a landmark year for the IT-industry. CHIP is about the best devices released this year: televisions, mobile PCs, smart phones, multifunction printers, cameras ...

"Pimp" your smartphone. How to eliminate the constraints of manufacturers?

The staff of the magazine found many ways to improve the performance of smart phones and are ready to share them with readers.

How fast Windows 8?

Out of the new operating system from Microsoft is scheduled yet, and CHIP is ready to report on its performance in comparison with indicators of Windows 7.
Title: Chip №1 (Russia)

Year: 2012

Publisher: Burda-Russia

Author: Group of authors

Genre: Magazines, Computers & Networking

Russian Language

Pages: 144
No feedback yet