Content: chistka-mertvaya.rar (3.00 KB)
Uploaded: 26.12.2011

Positive responses: 0
Negative responses: 0

Sold: 2
Refunds: 0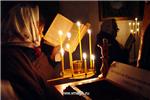 This ritual is for it to stay with yourself or a loved one any influence. It will help get rid of the damage, curses, the evil eye and other magical acts. The rite of the old and proven, easy to implement.

In addition it removes the detrimental effects of the ritual, so it also protects you from the new "gifts of fate."

If you have continuous bad luck, misfortune, if you are not for obvious reasons, are drawn to what that person you do not feel worthy of your attention - do not hesitate, this ritual allows everyone to return to their seats.
No feedback yet