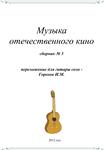 Collection of popular tunes of our cinema in the arrangement for solo guitar.

Contents:

1. Gladkov G. Song Ostap Bender ("12 chairs")

2. A. Rybnikov, "Do you believe me?" ("Big Space Journey")

3. A. Zatsepin "Help me" ("The Diamond Arm")

4. Chernavskii Yu "Zurbagan" ("Over the Rainbow")

5. Melody G. Kancheli ("Kin-Dza-Dza")

6. Petrov "I Step Through Moscow" (from the same to-f)

7. Dunaevsky M. Song Musketeers ("d'Artagnan and Three Musketeers")

8. K. Meladze, "Another snowstorm" ("The Irony of Fate, or Enjoy Your Bath!" - 2)

9. Petrov Melody ("Autumn Marathon")

10.Simonyan N. Prince Florizel ("The Adventures of Prince Florizel")


Plays are designed for intermediate and advanced level ispolnitelya.Vse play can be heard on channel GuitarverySimple (YouTube)

File pdf, notes duplicated tabulaturoy.Est watermark protection and file changes. If your reader beginning "to swear" (do not open the file), or incorrectly printed (the watermark on top of the music) - Foxit Phantom or use Adobe Reader X. There will be problems with the file - contact me, I will help 100%

Please: do not you arrange to spread the acquired (or typed in another musical editor) freely available. Enjoy parse successful game!
No feedback yet