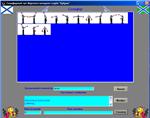 Computer program "semaphore chat" is used to communicate between the two interlocutors Flag semaphore (semaphore Russian alphabet). No matter where is your partner - in Vladivostok or in Canada. The main thing is that he had the same program as you. Determine your IP using the supplied small utilities that you pass it to his friend, he introduced it to his program and the interface is connected to your computer. Then you are communicating Flag semaphore. The program is used to study the semaphore alphabet and communication Flag semaphore.

Author program Kozenko Nikolai.
Guide to the program stored in the archive.
No feedback yet