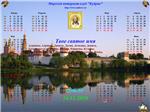 Calendar-saver "Your holy name," is a year-long calendar of the current year, showing every day name-day, ie Commemorated saints falling on a given day. Calendar works no matter what year is installed on your computer. By changing the file extension to start the calendar on scr exe and place it in a folder, where all screensaver on your computer, you will receive a calendar screensaver. It should be remembered here that in this case you must move the Data folder from where the calendar is set in a place where she would be saver.

Author program Kozenko Nikolai.
Instructions for using the program stored in the archive.
No feedback yet