Content: text (19 symbols)
Available: 1
Uploaded: 29.08.2014

Positive responses: 0
Negative responses: 0

Sold: 0
Refunds: 0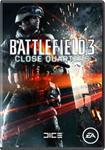 Close Quarters - Battlefield 3 new addition to team play in a melee. Fascinating battle infantry reinforced unprecedented destruction in high resolution, the new features of the game, new weapons and a test of endurance.


The main features of Battlefield 3: Close Quarters:

• You will be immersed in a violent and merciless fight Marines!

• You should always be on the move and look around, because death can come from any angle and at any time!

• You are allowed to destroy everything around! Absolutely everything! In HD!

• The Close Quarters you earn new weapons, which then can be used in the main game!

• Carrying out tasks, you get new badges!

• Play in a new way, implement, and mix team tactics, learn to instantly respond to the constantly changing environment around you!


*** HOW TO GET A GIFT ***

1. When purchasing be sure to include your email address in a specially designated place

2. Be positive feedback (indicate email is not recommended, since it is possible to receive even more spam)

3. Within 48 hours you will receive to your email a photo gift (guest key for Diablo 3 or Starcraft 2)
Activation Key Battlefield 3 Close Quarters:
1. Start the client Origin-EA
2. Log in using your email address and password provided during registration at EA. Check-activated version of the original game Battlefield 3 for the latest updates -
http://plati.us/buy/1363410
.
3. On the "Activate" enter the purchased key Battlefield 3: Close Quarters
4. An additional in-game content you have available.
Maybe you are interested in other games distributed by us. Full list is available here:
http://games.plati.ru/
No feedback yet