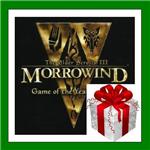 After payment, you instantly receive a license key to activate the game The Elder Scrolls III Morrowind Game of the Year Edition in the Steam system and enable all network functions in the game.

Our guarantees:
- 15 years old on plati.ru! Quality tested by time!
- More than 120 thousand sales!
- Over 20 thousand positive comments!
- Business level Webmoney - 550!
- For all goods a lifetime warranty!

The game has no territorial restrictions - REGION FREE and is suitable for activation in any country.

Languages: English, French, German. There is no Russian language, be careful! Russifiktor is in the community Steam.

The Elder Scrolls III: Morrowind® Game of the Year Edition includes Morrowind and all the content from the additions of Bloodmoon and Tribunal. The original Mod Construction Set is not included in this collection.

Epic, non-linear single RPG Morrowind allows you to create and play any character that you can only come up with. You can go along the main story line and find the source of a pernicious disease that poisons the earth or go on your own journey, studying amazing locations and improving the image of your character by his actions in the game. With stunning 3D graphics, a non-linear storyline and an incredible level of detail and interactivity, Morrowind offers you gameplay that you will not find anywhere else.

In Tribunal, you travel to the capital of Morrowind, Mournhold, in order to meet the two kings-gods of Morrowind, Almalexia and Sotha Sila. Your journey will lead you to the Clockwork City of Sota Sila and massive, gigantic dungeons in which strange and deadly creatures await you: goblins, lyric lords and mysterious Fabricants.

Bloodmoon takes you to the icy island of Solstheim, where snow, snowstorms and new creatures await you, such as frosty trolls, ice golems, wolves ... and many more. You can choose one of two ways of plot development and get the opportunity to defend the colony, decide for yourself how it will be built, and destroy the werewolves. However, you can also join werewolves, become one of them, discovering a completely new style of play.

@MediaSoft - 15 years old on plati.ru! Quality tested by time!
02.09.2017 13:41:10
Всё пришло, спасибо!
11.08.2017 20:36:41
Все ок
28.04.2016 17:12:46
Получил и сразу активировал, хочу подарок, спасибо.
10.04.2016 16:38:54
Все отлично, спасибо
11.01.2016 18:11:13
Спасибо, моровинд пришел!
09.01.2016 16:44:39
Быстро пришло. Очень приятно.
06.01.2016 15:31:48
всё получил. Спасибо. Хочу подарок.
04.01.2016 21:03:26
Все получил хотелось бы гифт )
30.12.2015 15:03:45
подарок получил мгновенно! хочу подарок!)
22.12.2015 23:47:39
Гифт получил за секунду, дёшево и быстро)) большое спасибо)
14.12.2015 17:29:30
Доставка товара быстрая, сделкой доволен) Хочу подарок!)
30.11.2015 14:20:30
как всегда на высоте! хочу подарок
16.11.2015 10:11:40
Отличный продавец. Случайно выслал не ту игру, о чём я ему сразу сообщил. Я уж и не рассчитывал получить свой Morrowind, но продавец выслал второй гифт. Огромное спасибо и успехов!
14.11.2015 12:27:16
Спасибо огромное! Хочу подарок!
12.11.2015 19:11:16
Получил гифт. Хочу подарок! )
10.11.2015 22:49:20
Получил гифт!Хочу подарок!
23.03.2015 12:37:48
получил и активировал гифт
02.09.2014 19:01:29
Всё замечательно :в
Хочу подарок! :D
05.02.2014 5:32:28
Все отлично, товар получен.