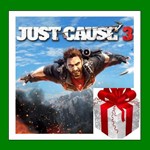 Just Cause 3 - Steam Key - RU-CIS-UA

Warning: game can be activated only in one of the following countries: Russian Federation, Armenia, Azerbaijan, Belarus, Georgia, Kyrgyzstan, Kazakhstan, Republic of Moldova, Tajikistan, Turkmenistan, Ukraine and Uzbekistan.
02.01.2018 23:24:52
Отличный продавец
08.10.2017 18:19:14
Товар получил мгновенно.
Большое спасибо!
Хочу подарок!
28.07.2017 22:07:23
хочу подарок
28.07.2017 14:18:35
Всё прекрасно, жду подарок!
21.07.2017 17:48:01
игру получил без проблем
28.05.2017 19:45:54
Всё ок!
17.12.2016 12:22:28
Всё очень хорошо! Всем советую! Хочу подарок!
07.12.2016 14:30:03
Отлично!Хочу подарок.

12.11.2016 18:27:49
Хочу подарок. Всё получил огромное спасибо...
28.09.2016 12:06:59
Хочу подарок. Все получил, все прошло гладенько. Хороший сайт, не первый раз покупаю тут игры.
30.08.2016 11:12:56
хочу подарок

Это просто шикарнейший продавец, мои друзья.
мало того что у него ключи на игры по мизерным ценам, так в добавок ты получаешь код для ВЫБОРА игры. это лучший продавец у которого я что-либо покупал!
23.08.2016 21:47:14
Подарил другу на др, все отлично.
Можно получить подарок?