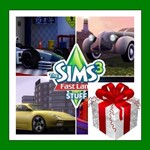 After payment, you instantly receive a license key to activate the addition of The Sims 3 Fast Lane Stuff DLC in the Origin system and turn on all network functions in the game.

To activate the add-on, you must have on your account the main game of Sims 3 !!!

Our guarantees:
- 14 years old on plati.ru! Quality tested by time!
- More than 120 thousand sales!
- Over 20 thousand positive comments!
- Business level Webmoney - 550!
- For all goods a lifetime warranty!

The game has no territorial restrictions - REGION FREE and is suitable for activation in any country.

Click on the gas and go for a test drive with your character using the Sims 3 Speed mode catalog. For the first time in the catalogs of the series, you will receive, together with the machines, decor elements and clothes, aged in one of four auto-styles. Will your character become the new incarnation of the King of the Road - or will he drive around in an old-fashioned car with an open top? Will he rebel against the habitual way of life, wearing a country suit of a tough guy or an outgoing girl? Perhaps he will want to lead a life full of secrets and intrigue, dressed in the suit of James Bond (or his girlfriend) and sitting behind the wheel of a car stuffed with spy super technology? Whatever you choose, with the Sims 3 Speed Dial, your characters will make a trip that will be remembered for life!

@MediaSoft - 14 years old on plati.ru! Quality tested by time!
17.05.2020 22:01:52
Все отлично

Хочу подарок
28.04.2019 15:41:49
Всё супер!
05.06.2017 11:50:47
Супер)
25.04.2017 21:32:04
Товар получен жду подарок