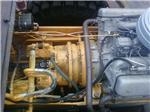 A detailed description of the preparatory work, the order YaMZ 238 engine installation on the wheel loader L-34 (Stalowa Wola), engine harness, installation of power supply systems and exhaust installation of an additional oil cooler and others.
Illustrative photos from the truck-mounted engine, photos of the most important points of fastening and binding.
The most important figures for the independent production of engine mounts to the frame of the truck and the connection of the engine with torque converter.
E-mail and mobile phone for a free consultation and provide additional support.
  Archive 24.4 MB
No feedback yet