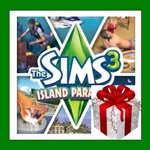 After payment, you instantly receive a license key to activate the The Sims 3 Island Paradise add-on in the Origin system and enable all network functions in the game.

To activate the add-on, you must have on your account the main game of Sims 3 !!!

Our guarantees:
- 14 years old on plati.ru! Quality tested by time!
- More than 120 thousand sales!
- Over 20 thousand positive comments!
- Business level Webmoney - 550!
- For all goods a lifetime warranty!

The game has no territorial restrictions - REGION FREE and is suitable for activation in any country.


Your characters are waiting for adventure on the paradise islands! From exploring the islands in a home-buoyant house to the organization of a 5-star resort, your characters will love this life without worries. Seaman characters can sail between the islands and sink in the water in search of sunken treasures - and can even make friends with the little mermaid! Absolutely new features The Sims for PC will open a whole world of new opportunities on land and at sea, which will allow your characters to enjoy the paradise islands.

@MediaSoft - 14 years old on plati.ru! Quality tested by time!
01.05.2020 7:28:56
отлично

хочу подарок
02.04.2019 20:07:36
Огромное спасибо и не дорого:З
09.12.2018 13:14:38
Ключ получил, активировал, всё работает! Спасибо! В описании написано, что можно получить подарок, хочу подарок :-)
13.10.2018 18:50:18
Просто замечательно код отправили, все работает)))) Я в восторге!!! Все супер!!! Прошу прислать подарок ??
01.09.2018 18:42:09
Код получила сразу же, после покупки. Уже активировала, все работает. Спасибо большое :) Жду подарка
20.08.2017 16:29:40
все отлично, спасибо) жду подарок
28.09.2015 22:49:17
Пришол скан ключа, все сработало, а подарки есть ? =)