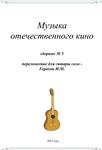 Several of my arrangements for solo guitar:

A.Shelygin "Brigade" (without modulation, the second option)

G.Kancheli "Mimino"

E.Lolashvili 3 theme from the TV series "Liquidation"

E.Artemev Music from mf "At Home Among Strangers"

---------- "The Girl and the dolphin"

Ringtones for intermediate to advanced guitarists proficiency tool.
File pdf, duplicate notes tabulaturoy.Est watermark protection and file changes. If your reader beginning "to swear" (do not open the file), or incorrectly printed (the watermark on top of the music) - Foxit Phantom or use Adobe Reader X. There will be problems with the file - contact me, I will help 100%

Earnest request: Do not you arrange to spread the acquired (or typed in another musical editor) freely available. Enjoy parse successful game!
No feedback yet