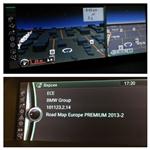 It turned out the next update for systems with voice CIC in Russian. New additions and corrections. Added new 3D objects. Approximate time updates from a USB drive - 40 minutes. Welcome for the codes.

Next update Road Map Europe PREMIUM 2014, will be released around September 2013.


How to order FSC?

You are required VIN of CIC (CIC if the vehicle is equipped with a factory it VIN of the car, if the car is retrofitted with CIC own vehicle's VIN and VIN in the CIC will likely not be the same), or code FSC 1B (Navi Enabler).

VIN CIC or FSC 1B (Navi Enabler) in addition to a whole bunch of ways you can read the program SWID_reader (found on the internet or ask her for personal messages or Skype).


FSC Code will be available to you within the hour.


Description: www.drive2.ru/users/arnold/blog/388121/

Swing map here thepiratebay.sx/torrent/8318977/
Immediately after payment you will receive a form to fill in the registration data, which will have to fill the following fields:

- Full Name;

- E-mail address (email);

- VIN number (7 digits);

These data will be transferred to the seller to complete the transaction of sale of goods.
No feedback yet