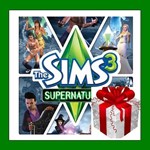 After payment, you instantly receive a license key to activate the addition of The Sims 3 Supernatural in the Origin system and enable all network functions in the game.

To activate the add-on, you must have on your account the main game of Sims 3 !!!

Our guarantees:
- 14 years old on plati.ru! Quality tested by time!
- More than 120 thousand sales!
- Over 20 thousand positive comments!
- Business level Webmoney - 550!
- For all goods a lifetime warranty!

The game has no territorial restrictions - REGION FREE and is suitable for activation in any country.

The game has no territorial restrictions.

Discover the enigmatic town of Moonlight Falls, where strange things happen to the full moon. Create supernatural beings - from sinister werewolves and giggling witches to naughty fairies and even more exciting vampires. Walk at night, use a magic wand to create spells, sharpen claws on furniture and do many more things. You can prepare dozens of different elixirs that will turn your characters into zombies or into gold. Share your enchanted drinks with friends who play The Sims 3! For you already prepared terrible secrets in the world of the game The Sims 3 Supernatural!

MediaSoft - 14 years plati.ru! The quality of time-tested!
09.02.2021 19:41:58
Все отлично! Ключ сразу же после оплаты!
21.08.2019 15:49:45
Код активировал, все работает, хочу подарок)
09.12.2018 13:12:39
Ключ получил, активировал, всё работает! Спасибо! В описании написано, что можно получить подарок, хочу подарок :-)
10.03.2018 10:28:47
Покупка прошла успешно. Прошу подарок
19.01.2018 14:07:00
Продавца рекомендую, ключи присылает сразу. Хочу получить подарок.
09.10.2017 10:59:46
Хочу подарок дополнения sims 3,или со скидкой
10.07.2017 21:57:59
Все супер! Остался доволен!
26.03.2017 16:50:25
все получил жду еще подарок