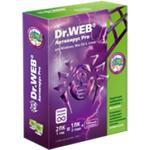 Dr.Web anti-virus for 12 months + 2 PC EXTENSION Protection for mobile for 24 months
In the process of registering a new license for the extension, you must present your old key file or serial number Dr.Web:
https://products.drweb.com/renew/?lng=ru
Scanner - Efficient detection of all types of threats.
SpIDer Guard - protection in real time.
SpIDer Mail - Net post without viruses and spam.
Quarantine - Insulation displaced files.
Control Center - Configuration of components in a single window.
Firewall - Protection against network attacks.
Cryptographer - save important information.