Content: 31008125952517.pdf (1.19 MB)
Uploaded: 08.10.2013

Positive responses: 0
Negative responses: 0

Sold: 8
Refunds: 0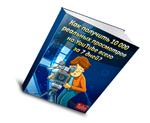 * So, you want to get 10 000 LIVE display your videos on YouTube! Awesome! From this e-book you will learn 14 ways to secure, in the short term to increase the number of views and subscribers.

* You can seek more views your video for many reasons. Perhaps you want to develop business or just to become popular. Whatever your motives, video - a powerful tool for promoting the network.

* You can maximize the power of video to attract people´s attention and to win customers and fans. This guide will help garner more views and subscribers to build the fan base.

* To collect 10 000 views, should take into account many factors. Usually video owe their popularity whole set of factors.

* Most of us have an account on YouTube, and your video will be watching around the world, and not only in one geographical point.

* Someone will look at it directly on the channel YouTube, so be prepared to expand the activity and get the desired views.
No feedback yet