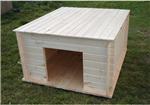 The main feature of this model is reinforced by a flat roof, calculated on the weight of the dog and allow the dog to climb on it. The roof opens to the curtains, which facilitates cleaning of the booth. The booth is designed for stationary placement in the enclosure under a canopy. During the warmer months the dog will prefer to sleep on the roof of the booth, in the cold - inside. Perhaps the wall insulation and the roof with the help of a heater and an inner layer of lining. Booth simply made using a hand tool.

Standard dimensions for the manufacture of:

80cm x 60cm, height 50cm,

100cm x 80cm, height 60cm,

120cm x 100cm, height 70cm,

140cm x 120cm, height 80cm.

In the book as an example details the production of booth size of 140cm x 120cm, intended to contain the larger breeds of dogs (Caucasian Shepherd Dog, Central Asian Shepherd, Moscow and under guard.) Also, the size of a table component parts for all of the above standard sizes. The file also contains drawings of all component parts, the scheme to build, photo illustrations and detailed list of the required material. In this book you can own hands to make an exact copy of the proposed model, or to order the production thereof to any carpenter´s workshop in the region of your residence.

The file .pdf 2082 kb, 15 pages.
Anyone who has their own website, forum, blog or page on the social. network, offer affiliate programs. You talk on the pages of this product and place your affiliate link to purchase the file with the drawings. Half of the sum of all sales, perfect for your affiliate link will be automatically credited to you. Address your affiliate links, see. In the top of the page in the column of the agency fee: Link HOW TO EARN.
No feedback yet