Positive responses: 14
Negative responses: 0

Sold: 26
Refunds: 0

Sorry, but this item is temporarily out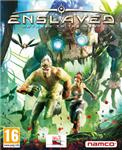 !!! ATTENTION !!! Every third client (in random order) to leave positive feedback after the purchase of the game, get on your Email, given when purchasing goods, an individual activation key gift games on Steam. As a gift you get one of the more than 30 different games to Steam. Subscribe key is made within 48 hours, excluding weekends since write a review.



Buying from us Enslaved: Odyssey to the West you are guaranteed to receive a license activation key immediately after the payment.



Language English

Activation: Steam

Developers: Ninja Theory Ltd

Publishers: Namco Bandai Games



Edition Premium Edition includes:

• Game ENSLAVED: Odyssey to the West;

• Supplement Pigsy's Perfect 10;

• Three "skins" for the characters: Ninja Monkey, Classic Monkey and Sexy Trip.


ENSLAVED: Odyssey to the West - is a futuristic version of the famous ancient Chinese novel "Journey to the West", written in 1590 during the Ming Dynasty. The new interpretation of the famous legend of the studio Ninja Theory population of the Earth is almost destroyed during another war. Now, the once busy city streets, walking heavily, fighting robots move (Mech), executing orders unknown, but the hostile forces of humanity.


The protagonist of the game - Monkey (Monkey), a lone warrior who grew up in the jungle and accustomed to a lifetime struggle with the robots. At the beginning of the game, he is a prisoner of the robots and gets on a ship full of slaves. The ship is wrecked, and Monkey is able to escape, but along the way he meets a girl named Trip (Trip) - an advanced hacker.


After the collapse of the ship Monkey wakes up with a strange headband that Trip put on him. She refuses to take off his bandage to this as long as he does not take her home, and warned that if he tried to escape or she will be injured, Monkey will die. Together they head west on lands captured by robots, once belonged to humanity.



This product is intended for distribution in Russia and CIS countries. We are not responsible for the use of goods outside the CIS.

~~~~~~~~~~~~~~~~~~~~~~~~~~~~~~~~~~~~~~~~~~~~~~~~~~ ~~~~~~~~~~~~~~~~~~~~~~

This is a Russian version of the game and we are NOT responsible for regional or any other restrictions!



WARNING: This key to activate on Steam.


How to start playing Enslaved: Odyssey to the West:

• If the Steam client is not installed, download and install it.

• Log in to your Steam account, or register a new one if you have not already have it.

• Go to "Games" and there select "Activate via Steam».

• Enter the activation key (to obtain it is necessary to buy Enslaved: Odyssey to the West).

• After that, the game will appear in the list, and you can download Enslaved: Odyssey to the West.
25.02.2016 13:03:31
Спасибо
16.12.2014 0:39:43
Thx from K.
03.11.2014 19:02:37
Спасибо за ключ!
10.05.2014 8:58:01
Купил ключ, активировал, спасибо, все без обмана
31.03.2014 13:16:42
Ключ получил, спасибо!
27.02.2014 20:12:17
отлично!