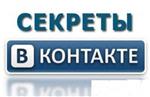 This is a super useful e-book with the secret leader of the chips social networks Vkontakte.

The book will be a great help each user inContact.


TABLE OF CONTENTS

1. All of the links in VK.

2. Access to social network at work or school.

3. Limits on VKontakte.

4. Find ID locked page VKontakte.

5. Other pieces of the text of 2013.

6. Special simfoly.

7. Change the look of the page in VKontakte.

8. We send yourself a gift (2 ways).

9. Restore patronymic VKontakte.

10. Remove sent gifts VKontakte.

11. Codes of smileys.

12. How can I register on page 2 1 room VKontakte.

13. Create an account VKontakte without a phone number.

14. How to send a gift to yourself VKontakte?

15. CHIPS programs, video.
No feedback yet