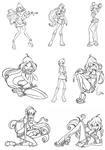 Winx (Winx) - School of fairies in the circuit. Clipart for poker.
This file contains 8 images in .png format with cartoon characters designed to burn souvenir picture format A4 + source vector .cdr format.
1.Print pictures.
2.Put the images on polished board.
3.Burning along the contour drawing cautery device.
4.Souvenir cover varnish.
No feedback yet