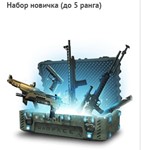 Activation:
1. If you have not already registered in the game, then start to register.
2. To activate the code in the game, go to:
https://wf.mail.ru/pin/
3. Enter the code in the code field and click the Activate button.
Attention! One game account can only activate one code.
14.10.2019 11:42:52
Без обмана промо пришел сразу на почту.)
13.07.2019 16:57:21
ок, ключ у меня
16.01.2018 20:25:50
Спасибо огромное, быстро и четко!