Content: waist.zip (118.44 KB)
Uploaded: 16.11.2006

Positive responses: 1
Negative responses: 0

Sold: 6
Refunds: 0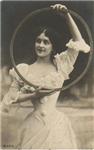 Lose weight easy and fun - three-week practical course is based on knowledge of the spiritual traditions. Author: Yuri Kiyko


You will not believe, but ... This book ... MAGIC !!!

The book tells about how to lose weight easy, fun, fast and free return kilograms and centimeters (!) - All of this without the tedious physical education, without exhausting diets, without pills and other tension. In the book: 3-week practical course written by a cheerful, laid-back language. Read and perform tasks - a pleasure!


I draw your attention to one point. This is very important !!!

Read need a day strictly one chapter !!!

It is not a fad. This condition of the course. The course is designed for 3 weeks, and each chapter of the book contains information concerning the activities of the day. Do not fly ahead of the engine! Go on a clear day, and then the technique will work properly!


20.05.2018 13:15:15
Всё нашлось