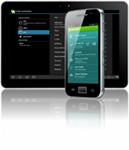 License to use Dr.Web Mobile Security


You get a registration key immediately after payment window after the payment. Will also receive a link to your personal cabinet displaying all your keys purchased on site.


To load distribution follow the link on the manufacturer´s website and enter the registration key:

https: download.drweb.com/? lng = ru


Protection for mobile devices running Android / Symbian / Windows Mobile

Supported OS

Android OS 2.1 - 4.3

S60, Symbian 9 above

Windows Mobile 2003/2003 SE / 5.0 / 6.0 / 6.1 / 6.5


Virus Protection


The main function implemented in Kaspersky Anti-Dr.Web, is constantly scan the file system in real-time. Moreover, Dr.Web anti-virus scans of the user´s request. Upon detection of a security threat, they are treated, selected by the user.


Filtering calls and messages


Dr.Web anti-virus filters out SMS-messages and phone calls, allowing you to block unwanted messages and phone calls, for example, promotional mailings, as well as calls and messages from unknown numbers.


As an option to select the filtering of calls and messages. In addition to predefined profiles that define the filtering mode, you can create custom profiles for each of which can define your own filter settings.


Information about blocked calls and messages available in the Blocked calls and messages.


Dr.Web Antitheft


Antitheft Dr.Web can detect the location or to block the function of your mobile device if it is lost or stolen.


Dr.Web Control antitheft by means of special SMS-commands. To access the settings Dr.Web antitheft need to enter a special password defined during initial setup. This password is necessary to remember, as it is used to control all the functions of Dr.Web antitheft, as well as to unlock your device if it is blocked. If you forget the password assigned to Dr.Web antitheft, use the special service password reset and unlock your device.


Dr.Web Antitheft allows you to create a list of friends (up to 5 phone numbers) to send their devices SMS-commands in the event that you forget your password for Dr.Web antitheft.


25.03.2015 17:38:59
ВСЁ ОТЛИЧНО,АКТИВИРОВАЛОСЬ СРАЗУ-ЖЕ.
07.03.2015 21:51:58
Спасибо!
07.03.2015 16:39:24
Спасибо. Очень быстро. Все отлично работает.
27.02.2015 21:09:35
Отлично!!!
04.02.2015 19:45:45
Все отлично. Ключ пришел моментально. В программу встал сразу-же.
Большое спасибо!
04.02.2015 10:29:03
Всё хорошо.Спасибо.
03.02.2015 13:56:37
всё отлично работает! спасибо.
23.01.2015 14:38:47
Отлично все встало. Молниеносно пришло. Сервис отличный. Возьму еще один ключик на смартфон. Брал на планшет.

21.01.2015 20:25:37
Товар качественный ,цены приемлемые. Всё ок!
30.12.2014 16:09:28
Все быстро и качественно
20.12.2014 11:13:10
Спасибо
14.12.2014 9:44:37
Спасибо, всё ок!
04.11.2014 18:27:27
Спасибо! Всё работает! Нвдёжный прдавец !
27.10.2014 20:57:10
Спасибо) ключ подошел
03.05.2014 3:01:04
спасибо все быстро и надежно. рекомендую