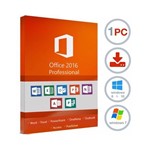 Microsoft Office Professional Plus 2016 32/64 bits for all languages ​​1 PC

The package of Microsoft Office Professional 2016 includes all applications:


Word 2016

Excel 2016

PowerPoint 2016

Outlook 2016

Publisher 2016

Access 2016

OneNote 2016


Improving the efficiency of your work.

Office applications provide the most efficient operation on devices running Windows 8, Windows 10 with an improved user interface optimized for touchscreen, pen and keyboard.

Improved interface does not distract attention and improves readability.

The new application home screen allows you to quickly navigate to the latest documents and templates with which you worked.


Simplify the exchange of information.

Means of working with e-mail, schedules and tasks in Outlook.

Allowing other users to view your Word documents in a browser, even if they don´t have Word installed.

Widescreen PowerPoint themes to create engaging presentations.

Save notes, images, web pages, voice memos and other materials and share them with OneNote.


Increase application efficiency.

Quickly create Access databases that organize data and provide access to it via the Internet from anywhere in the world.

Simple, but effective means of creating professional-level marketing materials with Publisher.

Recommended charts simplify data visualization in Excel and increase its efficiency.

Convenient means of adding images, videos and interactive multimedia content to Word documents using drag and drop.
01.02.2019 11:03:53
Спасибо! Всё работает!
27.01.2019 17:05:34
Отличный продавец, как и лицензия ключа. Всё без проблем встаёт. Рекомендую к покупке!
27.01.2019 14:12:10
офис активировался. все прошло удачно.
26.01.2019 17:01:05
спасибо! купили второй раз )
26.01.2019 15:58:11
все отлично! получили мгновенно! Спасибо! Касперский хочу
26.01.2019 15:56:22
Не активировался по интернету сначала, позже сам активировался.
Все ок!
Бонус получил!
25.01.2019 12:42:01
Не первый раз покупаю, все отлично работает. Подарки и скидки супер!
23.01.2019 3:35:54
Офис активирован, все работает
21.01.2019 12:37:50
Спасибо!
21.01.2019 12:33:37
Спасибо большое! Всё работает!
21.01.2019 12:25:24
Спасибо! Всё работает!
21.01.2019 12:21:32
Отлично!
21.01.2019 10:36:48
Спасибо огромное)
21.01.2019 10:30:47
Спасибо! Всё работает!
20.01.2019 21:44:19
Спасибо. Активация через интернет не прошло...Пришлось активировать по телефону.
20.01.2019 7:33:14
Все прошло отлично!
18.01.2019 11:49:31
Bсе xорошо, спасибо
Я хочу подарok:)
16.01.2019 17:56:08
После оплаты сразу получил серийник и ссылку на скачивание. Установка прошла успешно. Спасибо!
Хочу подарок
16.01.2019 0:43:26
Все работает, спасибо)
Хочу подарок)

14.01.2019 22:58:10
Все Ок