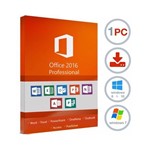 Microsoft Office Professional 2016 32/64 bit for all languages ​​1 PC

For the positive response of Kaspersky Internet Security 2018 1 PC 1 year as a gift

The package of Microsoft Office Professional 2016 includes all applications:


Word 2016

Excel 2016

PowerPoint 2016

Outlook 2016

Publisher 2016

Access 2016

OneNote 2016


Increase the effectiveness of your work.

Office applications provide the most efficient operation on Windows 8 devices with an improved user interface, optimized for touch screen, pen and keyboard operation.

Improved interface does not distract attention and increases the convenience of reading.

A new initial application screen allows you to quickly navigate to the latest documents and templates with which you worked.


Simplify the exchange of information.

Means of working with e-mail, schedules and tasks in Outlook.

Allow other users to view your Word documents in the browser, even if they do not have Word installed.

Widescreen PowerPoint themes, allowing you to create attractive presentations.

Save notes, images, web pages, voice memos and other materials and share them with OneNote.


Increase the effectiveness of applications.

Quickly create Access databases that organize data and provide access to them through the Internet from anywhere in the world.

Simple, but effective means of creating marketing materials of a professional level with the help of Publisher.

The recommended diagrams simplify the visualization of data in Excel and increase its efficiency.

Convenient means of adding images, videos and interactive multimedia content to Word documents with the help of drag and drop.
09.12.2018 14:21:42
Всё супер! Код сразу активировался, скачиваю дистрибутив! Рекомендую
01.12.2018 13:30:32
Ключ пришёл моментально, всё установилось, быстро и оперативною
28.11.2018 20:54:05
Все хорошо! Спасибо!
27.11.2018 20:43:22
Всё мгновенно.
Жду подарок
16.11.2018 13:33:48
Классная программа! Ключ подошел без проблем!
14.11.2018 14:04:37
Не совсем очевидно, но все работает. Хочу подарок. Все заработало.
14.11.2018 10:57:52
Ключ рабочий. Хочу подарок.
08.11.2018 17:57:09
Хочу подарок
08.11.2018 15:24:19
Все отлично активировалось! Как всегда не подвели, не первый раз уже покупаю программные продукты у этого продавца! Спасибо огромное!
18.10.2018 2:23:36
Все отлично!
16.10.2018 1:26:21
Спасибо! Все работает.
13.10.2018 10:45:01
Super
06.10.2018 22:46:11
Активировал онлайн без проблем.

В учетную запись Microsoft продукт не добавляется.
05.10.2018 2:50:38
Seller was very helpful even for a foreigner. Activated by phone.
03.10.2018 10:02:41
Все отлично ! Ключ пришел сразу ! Спасибо !
26.09.2018 12:47:15
Ключ пришел сразу после оплаты. Спасибо.
25.09.2018 18:04:22
Спасибо, все работает
21.09.2018 2:59:43
Super :)
16.09.2018 23:09:37
Всё работает. Спасибо за подсказку про активацию.
04.09.2018 9:10:15
Моментально был выслан код активации. Все работает без нареканий. Рекомендую !