Content: curs.zip (118.83 KB)
Uploaded: 16.11.2006

Positive responses: 0
Negative responses: 0

Sold: 0
Refunds: 0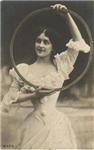 Lose weight easy and fun - three-week practical course is based on knowledge of the spiritual traditions. Author: Yuri Kiyko


You will not believe, but ... This course ... MAGIC !!!

The course explains how to lose weight easy, fun, fast and free return kilograms and centimeters (!) - All of this without the tedious physical education, without exhausting diets, without pills and other tension. In the accompanying book: 3-week practical course, written a cheerful, laid-back language. Read and perform tasks - a pleasure!


During the course, you will be able to communicate in person with the author, asking him questions, receive advice and explanations you obscure moments. Ie acquiring the course, you get the book + information (it will come to you in the mailbox every day for 3 weeks) + full support and assistance the author!
+ BONUS! Customers receive a free course interesting program for divination by the method of ancient Chinese hexagrams ("Book of Changes")!
No feedback yet