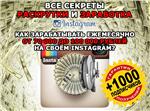 You will learn:

- Which of the 5 types of earnings in Instagram is best suitable for you?

- How to promote your Instagram-account from zero to the first 10,000 subscribers?

- How to turn your subscribers into loyal customers?

- How to get to the "Popular" and get mad influx of subscribers?

- As no cost to open your Instagram store with an income of 70,000 rubles a month?

- How to find suppliers for their store and get the most favorable conditions?

- How to attract people from Instagram in already running an online store?

and still a lot of details, which are not suspected of 99% of users Instagram


You will be very useful this training, if ...

If you want to earn extra income without investment, your account with Instagram can bring you

from 70 000 to 100 000 rubles per month.

If you do not have Internet access, but there is a sale and customers, the Instagram - a quick way to get new customers from the Internet!

If you already have an online store, but you want to increase its sales, while Instagram - this is the cheapest source of traffic that you need!
No feedback yet