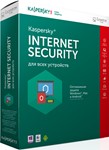 !!! Immediate shipping !!
Kaspersky Internet Security 2018 for all devices, two devices 1 year (Russia + SNG)) + discounts

You get the registration key immediately after payment window after the payment. Also you get a link to your personal cabinet displaying all your keys purchased on site.

Kaspersky Internet Security for all devices - a single integrated solution for protecting any device platforms Windows®, Android ™, and Mac OS.
A simple way to protect all devices
Blocking all Internet threats
Secure online payments
Protection of communication on the Internet and SMS
Parental control
A simple way to protect all devices *
You can protect any combination of devices running Windows, Mac OS or Android using a single activation code. Perhaps a license to use the product for 2, 3 or 5 devices. During the period of validity of the license, you can reinstall the protection from one device to another.
Blocking all Internet threats
Kaspersky Internet Security effectively blocks fraudulent and malicious websites and protects against malware and spyware, and identity theft. Be confident in its security, internet access from any device.
Secure online payments
Anti-Phishing (Windows / Android / Mac OS), secure keyboard for entering financial data (Windows / Mac OS) and safety technology payments (Windows) provide protection for the use of online banking and payment systems PayPal, Yandex and others. as well as when making purchases on the Internet.


Protection of communication on the Internet and SMS
Anti-virus and anti-phishing technology blocks malware and phishing links sent in social networks VKontakte, Facebook, Twitter, etc., Mail and other means, as well as warning of a suspicious link in the SMS-messages. And the Anti-Spam and Anti-Banner filter unwanted content.
Parental control
Parental Control module for computers running Windows and Mac OS allows parents to monitor kids´ Internet use: block inappropriate websites, limit the time spent on the Internet, as well as to prevent the transfer of personal data to outsiders.
Versatile protection
The solution is optimized to run on platforms Windows, Mac OS and Android, and instantly blocks all Internet threats. Whatever device you use, to search for information, make purchases or interact in social networks - Kaspersky Internet Security reliably protects you, your device and your valuable data.

** If you decide to leave your positive feedback, do not forget to click "Get a gift certificate" in the window of payment.
14.07.2016 10:38:32
Пользуюсь этим товаром на Вашей площадке. Меня всё устраивает. Очень довольна. Спасибо.
15.12.2015 12:31:21
Спасибо
16.10.2015 19:46:57
Активировал, спасибо!
20.09.2015 20:14:32
все быстро и честно . спасибо
02.09.2015 1:46:07
oookkkk
22.08.2015 3:18:34
Все четко! Ключ пришел моментально после оплаты! Все установилось на 365 дней!
Рекомендую продавца!
11.08.2015 10:32:27
Спасибо, подошло
06.08.2015 15:50:37
Спасибо!
31.07.2015 19:43:07
Спасибо, быстро, оперативно и всё работает.
11.03.2015 8:02:17
Спасибо!
30.01.2015 14:14:58
Благодарю
19.01.2015 8:34:39
Спасибо
17.01.2015 20:53:41
Все хорошо
17.01.2015 9:36:23
Спасибо все супер
16.01.2015 17:42:17
Покупаю 2-ой раз, покупкой доволен, спасибо.
31.12.2014 21:09:09
Спасибо!
27.12.2014 12:55:23
Спасибо большое, оперативно. Нареканий нет.
25.12.2014 22:26:43
все отлично! спасибо!