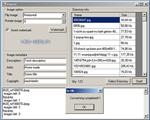 An updated version of the program with improved image processing algorithms and additional modifications.



Why do it?


Usually when you select an image for the articles or products photos are taken from the service images search engines. A webmaster is not particularly focuses on the uniqueness of the image. Thereby depriving the opportunity to promote the site to participate in the issuance of the search on the pictures to have a larger page compared to the competition - for example due to the uniqueness of the text as well as images and other details known only to the search engine algorithms.
What makes the program?
Search engines have developed a good algorithm for image comparison and detection of duplicates. In order that would unikalizirovat picture is not sufficient to impose a frame or watermark as playing with color, extension, file size does not not any results. All this is easily determined by the search engines or services to check the image on the uniqueness as TinEye
Program which I propose to test combines the only methods that have proven to be effective in the process unikalizatsii image.
Reflection 1 image (unfortunately not suitable when working with images with text)
2 Turn on the certain degree (after rotation of the image, the program will automatically cut the extra edge)
3 Erasing All metadata in the file and assign the new user data.
Features
The program works with folders does not change the dimensions or file names. In other words, the user can throw in the program folder with files that are already on the hosting and the output will get a unique file, which in turn will upload to the server.
As a supplement, is a function of the overlay watermark.
Reviews on Searchengines
http://searchengines.guru/showthread.php?t=844250
No feedback yet