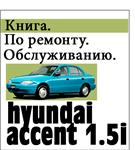 The book is in Russian service and repair of cars Hyundai Accent 1.5i / Hyundai Accent 1.5 Atstsent ah.

The book is in PDF format in Russian, color. Available for download at high speed with no restrictions.

In this manual you can find information on repair, car maintenance schedule, guidelines for the selection of supplies - oils and lubricants, consumable parts, etc.
No feedback yet