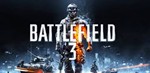 After payment You will receive a key to activate Battlefield 3 Origin=Region Free=-
REGION FREE / WORLDWIDE / MULTI LANGUAGE!
The game is forever associated with your Steam account and you will be able to download it anywhere and anytime.


Genre: Action, Shooter
Rating: RGRS: Forbidden for children
Publisher: Electronic Arts
Developer: DICE
Supported languages: Český, Deutsch (DE), English (US), Español (ES), Français (FR), Italiano, 日本語, 한국어, Polski, 中文


Game description:
Battlefield 3 leaves behind all its competitors, thanks to the incredible capacity of the new game engine Frostbite™ 2 from DICE. This work of art based the entire Battlefield 3, offering the player a great quality of graphics, locations of incredible magnitude, the total destruction of objects, dynamic sound and realistic character animation.In Battlefield 3 you will be able to experience the battlefield like never before, with whistling bullets around, crumbling walls and knocks you off your feet by the explosions. In Battlefield 3, players will become an elite U.S. marine corps and immerse yourself in the exciting task of single player and superb multiplayer battles across the world, including Paris, Tehran and new York.

Game features:
•Frostbite 2 – Battlefield 3 introduces Frostbite 2, the incredible technology lifts animation, destruction, lighting, scale and audio to hitherto unseen heights. Built on this powerful game engine, Battlefield 3 fully immerses players in the game world.
•Stunning animation Battlefield 3, great special effects and realistic battlefield will allow you to feel a real sense of war, as in any game of this genre.
•Battlefield 3 is the best game incarnation of battles with the use of technology becomes more perfect, pushing in one battle supersonic fighters with an impressive array of ground, air and marine equipment.deliveryKeys Battlefield 3: officially distributed by digital distribution without discs and boxes. </ Delivery>
Activation:
1. Download and install the Origin client. (
http://www.origin.com/download
)
2. Start Origin.
3. Select the interface language and the place where you installed the game.
4. Go to "Origin-setting and management.
5. Select "Activate product code".
6. Enter the key you received after payment.
7. After activating the game tab will appear with your profile and the list of activated games.
8. Select a GAME and press "Download"
30.09.2017 9:52:31
Всё ок! Можно покупать! Хочу подарок :)
27.09.2017 9:40:56
Хочу подарок!
20.08.2017 21:35:33
tanks
02.06.2017 2:16:25
жду подарок все пришло
19.05.2017 20:38:04
Ключ активировал уже катаю )), на ютубе есть видео как русский язык поставить, мой скайп sergo.ru42
16.05.2017 20:59:19
Всё хорошо, всё соответствует описанию и пришло мгновенно, спасибо, хочу подарок! :)
12.05.2017 11:14:09
Все супер, пришло сразу же. хочу подарочек)
15.02.2017 21:59:49
Спасибо!Всё отлично! Хочу подарок!
08.02.2017 15:03:43
Игру получил
27.01.2017 14:16:01
Все хорошо. Хочу подарок!
20.01.2017 23:24:04
Спасибо, все быстро и качественно)) Хочу подарок!
19.11.2016 14:23:05
Спасибо! Хочу подарок!)
19.11.2016 13:44:59
Всё отлично, хочу подарок:)
10.11.2016 11:36:16
Всё пришло.Отличный магазин.
08.11.2016 21:38:58
Все супер!! Хочу подарок.
07.11.2016 20:03:01
Все хорошо
07.11.2016 15:11:35
Всё быстро и качественно...Хочу подарок)))
06.11.2016 15:43:42
Всё отлично!Хочу подарок!
30.10.2016 21:29:26
Все хорошо, хочу подарок)))