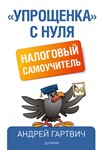 The book tells about the simplified system of taxation, affectionately called the "simplified tax system". This is the most popular system of taxation used by small businesses - both individual entrepreneurs and enterprises.
General rules of taxation are considered in relation to this system. The simplified system compared with alternative tax regimes.
Here you will encounter plenty of references to the regulations. Emphasis is placed on good economic sense, and the internal logic of the legislation, the development of which will allow you to easily understand the future in the most difficult situations.
The book is addressed to a wider audience. Special training is not required.
No feedback yet