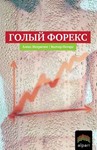 Today´s Forex traders often rely on technical analysis books written for stocks, options and futures. However, long before the advent of computers people traded without complicated and confusing array of indicators. Trading was naked!
This book describes the powerful and efficient trading techniques without the use of indicators, teaching you to trade relying on price charts. Author - the head company foreksbrokera and has a degree in psychology. He simply and clearly reveals to the reader his system of trading in the Forex market, and teaches how to get your personality to succeed.
The book is intended for a wide audience, leaving alone any financial markets (stock, futures, foreign exchange and commodity), although the emphasis is on market Forex.
No feedback yet