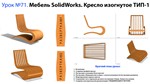 Welcome, dear friends. Now there are a lot of design solutions in interior and exterior. I do not stay aside from these solutions and furniture. Increasingly, you can find the most unimaginable forms of chairs, tables and beds. In this lesson we will consider in detail modeling curved chairs with elegant forms. But to build the model itself is not a problem to visualize, even for a novice designer, but to build a model for the creation and assembly of the design documentation (including the technological aspects of production) - is another matter! Here are all the details we will examine in this detailed tutorial. Enjoy watching.
Lesson Synopsis №71

Introduction
Consideration of the first test version
Create a profile chair
Construction of the base (base chair)
Building cladding (bottom and top), with the possibility of building sweeps
Modeling frame chairs
Conservation bodies in the individual parts and the construction assembly. Tips and tricks
Creation of design documentation: specifications and drawings (in general)
Results
06.11.2015 17:49:05
Спасибо Петр!