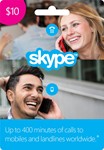 You are about to buy an original Skype Credit Gift Card for $10. It works in all countries and for all accounts. Add funds to Skype you can call the family and friends to mobile and landline phones around the world. Voucher for $10 gives you about 400 minutes of calls.
The account is replenished almost instantly.
How to activate a voucher of $10 Skype Credit Gift Card
1. Go to the official website of Skype:
https://secure.skype.com/store/voucher/redeem.html
2. Enter your Skype Name, password, and then recharge code, which you purchased from us (19 digits)
3. Wait until the balance is replenished (from several seconds to several minutes)
To make calls you´ll need Skype application on your device. You can use Skype on the following platforms: Windows desktop, Mac, Linux, Android, iPhone, Windows Phone, BlackBerry, Nokia X, Amazon Fire Phone, Modern Windows, iPad, Android tablets, Kindle Fire HD, Xbox One, iPod touch, PlayStation Vita.