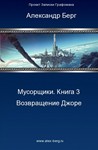 The third part of the saga about our countrymen who have fallen in the Commonwealth realms.
Based on the popular game EVE online
Author text in FB2 format, spelling is not checked. To read books, use the reader for that format. Word will not open these files.
09.10.2016 2:58:33
спасиб получил.
20.03.2016 14:55:34
Спасиб книга у меня)
19.03.2016 17:53:15
Спасибо, все быстро и просто
18.03.2016 6:57:30
Очень хорошо