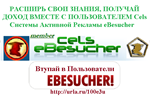 Marketing for decent and stable earnings Plan Members Active Advertising Systems electronic visitor - eBesucher.de
It contains a detailed description, with reference to the famous sites c free software (software in the form of plug-ins), with images and calculations.
This file contains the document pdf format.
It´s for My personal referrals, active users in the system of electronic visitor - eBesucher, wishing to consistently earn from 2 to 258 € per day, giving for 3 €, mathematically developed a universal marketing plan.
Without sales;
Without financial risk, as it does not need to invest;
Without installing malicious "client" and other unlicensed homemade programs.
-----
Only required for each user who wants to really work on the network and at the same time earn decently - daily, with attention to surf and collect the structure of 50 to 50 active referrals leaders (in its first level each have 50 leaders) daily produced at the autosurfing least two € cents (more precisely 0.017 € at today´s exchange rate is one ruble 35 kopecks).
Filing requirements for payments, is from 2 € and more accepted service on any given day and without any restrictions.
No feedback yet