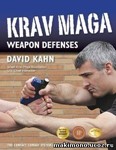 If you are looking for reliable ways to counter aggression with machetes, simple and effective, then this book will not leave you indifferent. 334 pages of fine print, and nearly a thousand photos on defense from the knife allows no doubt about the competence of the author of this book, the Israeli system Krav Maga instructor, David Kahn.

The book is likely to be called an encyclopedia of counter knife - so much here considered a variety of topics and situations, including, for example, keeping the fight on the ground with a knife. Technique is very simple and resembles the same old and kind of judo and karate, but the use of it - is not easy. There are a lot of different factors that influence the effectiveness of the defense from the knife - and it seems that they are all covered in this book.

In my opinion, this is one of the most honest and real books on defense against edged weapons, at least it gives you a real chance of survival. It is worth thinking replenishment of the library of any athlete!
product in English
No feedback yet