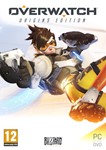 You buy official game key Overwatch: Game of the Year Edition from Blizzard Entertainment

Release date - 24.05.2016
Regional restrictions - none
Editorial - Game of the Year Edition, contain:
- Overwatch game
- 10 Bonus Loot Boxes
- 21 hero
- Overwatch - Hero Skins
- Tracer Hero (Heroes of the Storm)
- Baby Winston Pet (World of Warcraft)
- Card Back (Hearthstone)
- Mercy´s Wings (Diablo III)
- In-game Portraits (StarCraft II)

---------------------------------------------------------------------------

ATTENTION !!!
- This key must be activated on eu.battle.net


---------------------------------------------------------------------------

Overwatch: Game of the Year Edition

Clash on the battlefields of tomorrow and choose your hero from a diverse cast of soldiers, scientists, adventurers, and oddities.
Bend time, defy physics, and unleash an array of extraordinary powers and weapons.
Engage your enemies in iconic locations from around the globe in the ultimate team-based shooter.
Take your place in Overwatch.
The world needs heroes.
• You buy goods in the official digital division of belconsole. We are an international, family company with high values. We have 2 physical stores and an office.
• Belconsole on the market for more than 9 years.
• More than 40,000 sales, more than 6500 positive responses only on the independent platform oplata.info, not one unresolved issue for 6 years.
• The official level of webmoney Business Level is more than 700.
• Belconsole is the official dealer of all the largest distributors in the CIS.
• After the purchase, if everything suits you, please write the feedback below under the goods, it is very important for us.
• If you have difficulties with activation, please write below under the product in the correspondence, our technical support will help you.
• Technical problems with the keys can not be solved by phone, thanks for your understanding.
20.01.2018 16:41:21
thx good :)
30.11.2016 20:33:10
Все пришло.Продавец хороший.Рекомендую

31.07.2016 17:55:27
Спасибо, прошло хорошо
30.07.2016 18:11:32
Всё отлично пришло спасибо.