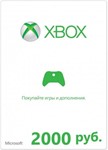 Xbox Live - 2000 rubles card payment
Prepaid card that allows you to replenish the balance of 2000 rubles Russian version Account Xbox Live.
To activate the card !!! region account must be Russia !!!
After payment page the browser will be updated automatically and you will see the Scan Card.
Scan card also duplicated on the e-mail. Archive your purchases are always available here
http://oplata.info
GIFT !!! !!!
Every third buyer who leave a review "I want to present" get Hulu Plus
PS If you have made a purchase of three (3 leaving a review) and has received a gift, please contact us to correspond to the product through the site oplata.info. Three of purchase (3 reviews) guarantee you a gift.
04.12.2018 21:45:21
хочу подарок
05.07.2018 13:50:29
Всё прошло быстро и безболезненно, спасибо!
02.07.2018 18:44:29
ооо да 2 покупки подряд ХОЧУ ПОДАРОК*?
02.07.2018 18:41:14
ооо да
02.07.2018 6:45:25
Спасибо
30.06.2018 21:32:43
Как всегда отлично! Карта оплаты успешно активирована. Рекомендую!
30.06.2018 17:02:27
Все отлично, спасибо)
30.06.2018 17:02:11
Все отлично, спасибо)
29.06.2018 18:37:03
Супер
28.06.2018 23:11:46
Спасибо все работает !!!
23.06.2018 13:19:00
ВСЕ СУПЕР

22.06.2018 17:26:41
Все хорошо спасибо ! Хочу подарок!
21.06.2018 21:47:35
Спасибо ! Хочу подарок
21.06.2018 16:55:48
Всё прошло гладко и быстро. Респект продовцу советую
19.06.2018 0:53:32
Код работает
18.06.2018 1:34:30
Спасибо! ключ работает, приятная цена. хочу подарок
17.06.2018 15:03:24
Активация без проблем