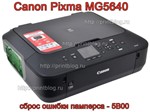 If the Canon Pixma MG5640 printer is locked and you can not find a way to clear the error diapers overflow and 5B00 mistakes or you have tried to reset the error and "killed" the service mode in the printer, then dumps chips 25Q16 and 25Q128 complete with a programmer to help solve the problem with an error.

Files likely to be more useful to employees of the service center or repair shop printer, maybe you just know who has a programmer. Files are tested and 100% working.


AND ALWAYS LEAVE COMMENT TO PURCHASE !!! THANK YOU!!!
26.06.2018 22:39:01
Дамп рабочий
05.09.2017 22:07:14
Хорошо