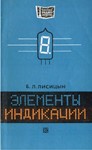 The book examines the issues of application of the display elements
for displaying information. The classification of the elements I
their basic reference data.
The book is designed for amateur radio-constructors.
By purchasing this product, you will receive a link which will be able to download the book. The vast majority of books are available in two formats - djvu and pdf.
djvu format can be opened with the program WinDjView (
https://goo.gl/pXH7on
)
Pdf format can be opened with FoxitReader program (
https://goo.gl/04hgZ2
)
No feedback yet