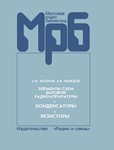 Elements of household radio circuits. Capacitors. Resistors. Aksenov. (1995)

The information on the classification, the legend, the main parameters and arrangement, the capacitors and resistors produced by the domestic industry. We give a classification and symbols of foreign capacitors and resistors and capacitors domestic foreign counterparts. Available options for replacing certain types of domestic capacitors and resistors. Designed to radio amateurs as well as professionals involved in the construction, maintenance and repair of household electronic equipment.
By purchasing this product, you will receive a link which will be able to download the book. The vast majority of books are available in two formats - djvu and pdf.
djvu format can be opened with the program WinDjView (
https://goo.gl/pXH7on
)
Pdf format can be opened with FoxitReader program (
https://goo.gl/04hgZ2
)
No feedback yet