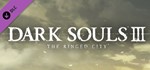 Description:
http://store.steampowered.com/app/506971/DARK_SOULS_III__The_Ringed_City/
Note: Products purchased in Russia can be added to the library only in the following countries: Armenia, Azerbaijan, Belarus, Georgia, Kyrgyzstan, Kazakhstan, Republic of Moldova, Russia, Tajikistan, Turkmenistan, Ukraine or Uzbekistan
Check region:
https://store.steampowered.com/account/
The game can not be taken into inventory, only installed in the library
In connection with the innovation of Steam:
(As of May 4,
http://steamcommunity.com/games/593110/announcements/detail/1301948399254001159
),
Guys will arrive on your account with a delay. Since the whole operation is done manually
You are required to fill out your details, namely - a link to your Steam account, we will add you as a friend and give the paid game
If you have any questions, ask through the "Ask a Question" form
100% WARRANTY! After paying for this product, you will receive a licensed Gift DARK SOULS III - The Ringed City for download on Steam!
Absolutely every customer who left a positive feedback will receive a RANDOM GIFT
The game is added to your library for a lifetime!
How to get the link of the account:
Open Steam> Profile> Right-click> Copy page address
This Gift can not be accepted into the INVENTORY
Before payment, you need to enter your link in the field to the right of the description of this product
After payment you need:
- Accept our request to add to your Steam friends
- Accept paid game
-------------------------------------------------- -------------------------------------
Get a random Steam Key with the game as a gift!
Just two steps!
1. Leave a comment with your comment
2. Wait for a random key (In personal correspondence with the seller, or in Steam)
-------------------------------------------------- -------------------------------------
ALL PRODUCTS ON ONE PAGE -
http://goo.gl/FgCDnO
-------------------------------------------------- -------------------------------------