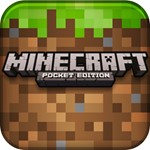 attentionAfter you pay for the product, you will be able to access the account with the Minecraft game on your iPhone / iPad / iPod.
</ attention>
Note: (IMPORTANT!)
1) Our accounts are not eternal: passwords to them change every Sunday, regardless of the date of purchase. The downloaded games remain on your device, but in the case of a game update, you will need to purchase access to your account again or play the old version of the game.
2) Accounts are issued only for downloading the applications you need, after downloading, go to your account.

It is prohibited:
Enter the received data into iCloud.
Make any changes to the data in the shared AppStore account.
Independently purchase games and applications, additional elements.
15.09.2018 7:31:26
ВСЁ РАБОТАЕТ ТОП!!!
27.07.2018 2:23:36
Работает спасибо!
11.07.2018 0:01:39
всё отлично, спасибо
29.03.2018 11:51:04
Почему не появляется купленные
10.12.2017 23:12:27
Даааа! Вы не поверите, но это работает!!!!
И обязательно всё это делать через Wi-Fi!
А ещё в этом аккаунте есть второй аккаунт - вот через него и надо качать!
Много здоровья и счастья продавцу!)

Советую всем)
09.12.2017 14:31:25
Покупайте, все работает(+ещё там несколько платных игр не смотря на Minecraft)Продавец не обманул)Спасибо, ему)
18.06.2017 9:14:28
Thank U