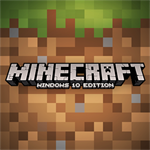 You buy Minecraft: Windows 10 Edition.attentionThe key is only for Windows 10!
</ Attention>

Build a variety of structures: from havens in haste to grandiose castles!
Create and explore your own world, limited only by the limits of your imagination, but do not forget before the night comes to build a shelter to protect against monsters.
Find materials and make tools, supplies, food and weapons that will help you survive.
During the game, millions of players around the world have broken billions of blocks
Now you can join the army of fans of this cool game and you are on the device with Windows 10!
17.11.2017 19:49:34
все отлично!
27.07.2017 11:17:51
Ключ валидный