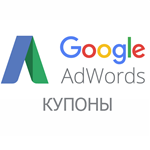 Date of expiry: (one-year)

Discounts only for residents of the Russian Federation, whose billing address is in Russia.

The coupon can be used only by new Google AdWords customers accounts not older than 14 days from the date of registration.

Account register strictly on Russia, or guaranteed by banks !!!


Instructions for using the coupon:

Create and activate a new account with Google AdWords.

In order to get a reward: Begin to advertise! Expenses, net of VAT, you will incur during the 31 days after you apply this code, they will be reimbursed at the rate
the amount specified in the promotional code 3000 RUB.

The remuneration applied to your account within 5 working days. It is displayed in the "payment".

Thus absolutely spend any amount of costs up to 3000 rubles will be reimbursed within 5 days!
Переводчик Google для бизнеса –Инструменты переводчикаПереводчик сайтовСлужба "Анализ рынков"

Attention! Use promotional code can only be a new Google AdWords account, which is not more than 14 days from the date of registration
04.06.2018 16:28:30
Все в порядке! Работаем